SUBSTANTIAL INVESTMENTS IN HIKA PARK UNDER CONSIDERATION
Take our survey by 11:00pm on Monday, November 30, 2020.  The Plan Commissioners need to hear from you!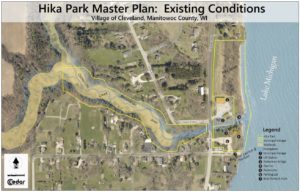 Share your priorities for Hika Park—
…What activities are important to you?
Boating?  Walking?  Gatherings and events?  Lake viewing?  Fishing?
…Where should the Village focus its efforts?
On the ecology and natural areas?  The active area on the south end?
…How should projects be financed?
What revenue sources do you support for each development?
PROPOSED DEVELOPMENTS
Over $5 million dollars in investments are under consideration for the three areas of Hika Park:
Boat Launch and Pavilion Area (south side of Centerville Creek) – THREE OPTIONS
Hika Sands (north side of Centerville) – THREE OPTIONS
Centerville Creek Restoration Area (west of Lakeshore Dr.) – TWO OPTIONS
View the Cedar Corp. presentation for more detailed information: 10/21/2020 Hika Park Presentation to Plan Commission
AND/OR
Go to the survey: Hika Park Master Plan Survey (includes maps showing the design for each option)
The survey closes at 11:00pm on MONDAY, NOVEMBER 30, 2020.